Service
Print
Digital
Annual subscription
Germany
€ 85.-
€ 50.-
Abroad
€ 115.-
€ 50.-
Single copy
Germany
€ 25
€ 15.-
Abroad
€ 30.-
€ 15.-
All prices including postage / excluding VAT. Single copies while stocks last.
The minimum duration of the subscription is one year. This period is automatically extended by a further year, unless the contract is terminated in writing with three month's prior notice to the end of a subscription year. There is no legal right of revocation. However, the contract guarantees you the right to revoke the order within 14 days after receiving the first issue of the subscription by informing Keppler Junius GmbH & Co. KG. Decisive for the compliance with the time limit shall be the date of dispatch.

Frequency of publication: 4 printed issues including bio-fibre magazine + bi-weekly newsletter + online access to all articles from our magazines.

The bio-fibre magazine supplement covers new kinds of paper-like materials and biocomposites or bioplastics based on wood fibers, innovative products made from or with micro- and nanofibrillated cellulose, green chemicals and ingredients as well as second- and third-generation biofuels. The unique feature of the bio-fibre magazine is its focus on raw material containing lignocellulose. Next to wood this is agricultural residue (e.g. cereal straw, corn stover, bagasse) or energy crops (like miscanthus, switchgrass) and alguea – as these bio fibers are perfectly sustainable and do not create competition for the production of food!

Student discount: 50%

A P3 subscription is available here.
You can subscribe to our newsletters here.

To order single issues, cancel or for any questions regarding subscriptions please email us at subscriptions@ipwonline.de. Please allow up to six weeks for a written response. Thank you!
Media Information
Editorial calendar
Media Kit 2021 (PDF)
ipw logo as download (PDF)
ipw logo as download (EPS)

Issues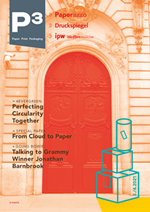 Issue P3 3-4/2021 en
Grammy Winner Jonathan Barnbrook: "Try and Change the World!"

Hygiene: Addressing the Tension in Packaging

High-Tech & High-Touch: From Cloud to Paper

Leonhard Kurz: Advantages in Competitive Markets
Recent issues (only viable with subscription):
Previous issues (click cover to read):